"Eureka Avalon is the result of the complete merging of Eureka with the Super Knightframe prototype, her new pistols have the same power as her standard cannon, but are twice as fast." -Lt. Luna
Overview
Edit
Eureka Avalon is a boss in the current build and a special unit planned to be included as an upgrade of the regular Eureka for end game situations.
Comparable to Xera Guren in resistance and Rate of Action, Eureka Avalon difers from her confederate counterpart in two important factors, her long range and ability to eliminate multiple targets in a straight line.
Poorly positioned commanders will end with their formations reduced to dust by Eureka's pistols in seconds, discretion and the development of alternative tactics are recommended.
For tips on how to deal with this unit visit the Tactics page.
Assessment
Edit
Pros: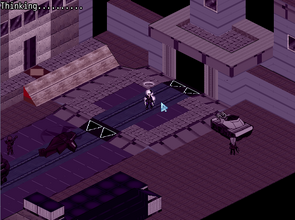 Effective against all units
Immune to [COMPLETE SYSTEM HIJACK]
Painfully fast
Can target multiple enemies in one turn if lined correctly.
Cons:
Vulnerable to EMP(Altough not recommended due high Rate of Action and fast recovery)
Vulnerable to Hacker delay attacks
Community content is available under
CC-BY-SA
unless otherwise noted.